Crypto trading has a large visual component that can be difficult to translate through audio alone. Understanding crypto has a lot more to it than just looking at charts. Crypto landscape changes so rapidly and when you are creating your crypto trading strategies you need to be aware of the forces that are driving the space. One way to stay updated is by tuning in regularly to these handpicked podcasts.
As a crypto trader you will often spend time trying to understand projects and what can impact them. You need to be ready for major events and your trading strategies need to account for them.
Whether you seek a distraction from staring at charts while running crypto bots or you just want to master the art of Twitter discussions check out this podcast selection of best crypto podcasts:
Unchained
The self-proclaimed "no hype resource for all things crypto" has been around for 5 years. It remains one of the best resources in any format to discuss cryptocurrencies and the projects in the industry.
The one-hour format allows for an in-depth discussion, and host Laura Shin is excellent at asking fundamental and even controversial questions if it is warranted. As the first reporter at Forbes to cover digital currencies she manages to bring in an impressive roster of guests.
It's not necessarily a piece of cake to follow for novices, although some episodes purposefully cover the basics.
Episode to start with: How Binance Became the Most Popular Crypto Exchange in 5 Months – Ep.84
Epicenter
If you want to get technical Epicenter is the podcast for you. It's been running since 2014 and is hosted by Sebastien Couture, Brian Fabian Crain, Meher Roy, Sunny Aggarwal, and Friederike Ernst.
The show is raw, unpolished and information dense. They cover technical, economic and social implications of cryptocurrencies and blockchain technologies. The episodes are deep dives but also approachable and forward-looking. Disclaimer: Listening to Epicenter can cause extreme excitement with respect to/regarding the future of novel projects
Episode to start with: Revolutionizing Democracy Using DAOs with Ralph Merkle – Ep.141
The Wolf Of All Streets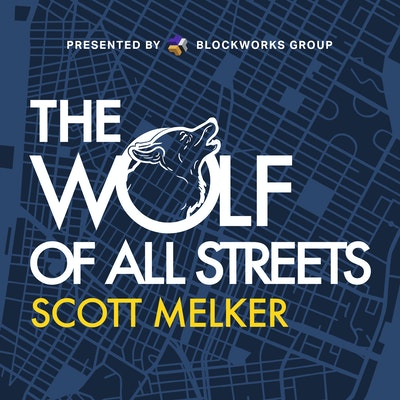 Scott Melker is one of the most grounded traders in the crypto space. He actually champions risk-management and is one of the few voices to not resist the excitement that can sometimes leave crypto traders exuberant.
On his recent podcasts he brings interviews with different personalities from the crypto space and it gets quite fun. He relates personal experience, provides good trading advice, and reminds novices to keep things clean and stick to common sense. The show is diverse enough to keep you coming back, while remaining insightful so you keep learning and understanding crypto better.
Episode to start with: Haseeb Awan, CEO of Efani and Inventor of the Bitcoin ATM on Sim Hacking
The Pomp Podcast
Anthony "Pomp" Pompliano's long running show takes some credit for bringing Bitcoin and other cryptocurrencies into the mainstream. In 2018 an episode with Murad Mahmudov where he explained what Bitcoin is, shot up to number 4 on iTunes in the investment category. The podcast was then taken down by Apple, only to be reinstated after a few days.
The show is running strong today, featuring guests from Silicon Valley, Wall Street and the crypto space. It gives varying perspectives on how investment in digital assets is seen and executed by the old and new financial systems.
Episode to start with: Murad Mahmudov: The Ultimate Bitcoin Argument
The Trader Cobb Crypto Podcast
Heavily focused on trading and technical analysis, this podcast highlights some tactics and strategies from traditional markets for trading crypto. Craig Cobb brings 13 years plus experience in stock markets, FX, commodities and bonds in his daily episodes that look at Bitcoin and other markets. He investigates charts, pinpoints what to look at and shares his conclusions on the immediate future of major cryptocurrencies.
Craig reminds of some great habits from trading other markets to crypto like a focus on trading strategy development, checklists and designing watchlists. If you want a podcast purely zooming in on crypto trading, this is the one for you.
Episode to start with: Further Downside Risk Is Real or any recent episode.